Change your sitting posture for a healthier life by using our wooden ergonomic kneeling chair. This work of art assists you in sitting in appropriate positions without much mental effort. It strikes the perfect balance between beauty and functionality.
Healthy Ergonomic Design
Prevents Neck & Back Problems
Improves Circulation And Oxygen Levels
Easy To Change Positions
Life-Changing Experience
Sit with your weight on your bottom, and change positions with your weight on your shins. Take your time, gradually increasing the amount of time you spend in your kneeling chair as your body adjusts. We're confident you'll never want to sit in the same position again!

Amazing Feeling
The seat cushion is extremely soft and comfortable.
Perfect Balance
The softly angled wood of the kneeling chair ensures that it matches your body's natural movement. The chair helps to strengthen the muscles, reducing the negative effects of static sitting. The kneeling chair encourages dynamic and active sitting positions, allowing the body to move naturally and find its own balance.
Simple & Neat
The chair is light in weight and easy to transport, with minimal cleaning effort, and is built as an open construction with no mechanical adjustment parts, making it a stylish companion that meets the demands of a modern lifestyle.
Overall Dimension: 27.95"L x 20"W x 22"H

Cushion Thickness: approx.3.54" (10 cm)
Total Load Capacity: 242 lbs (110 kg)
Product Weight: 12.12 lbs (5.5 kg)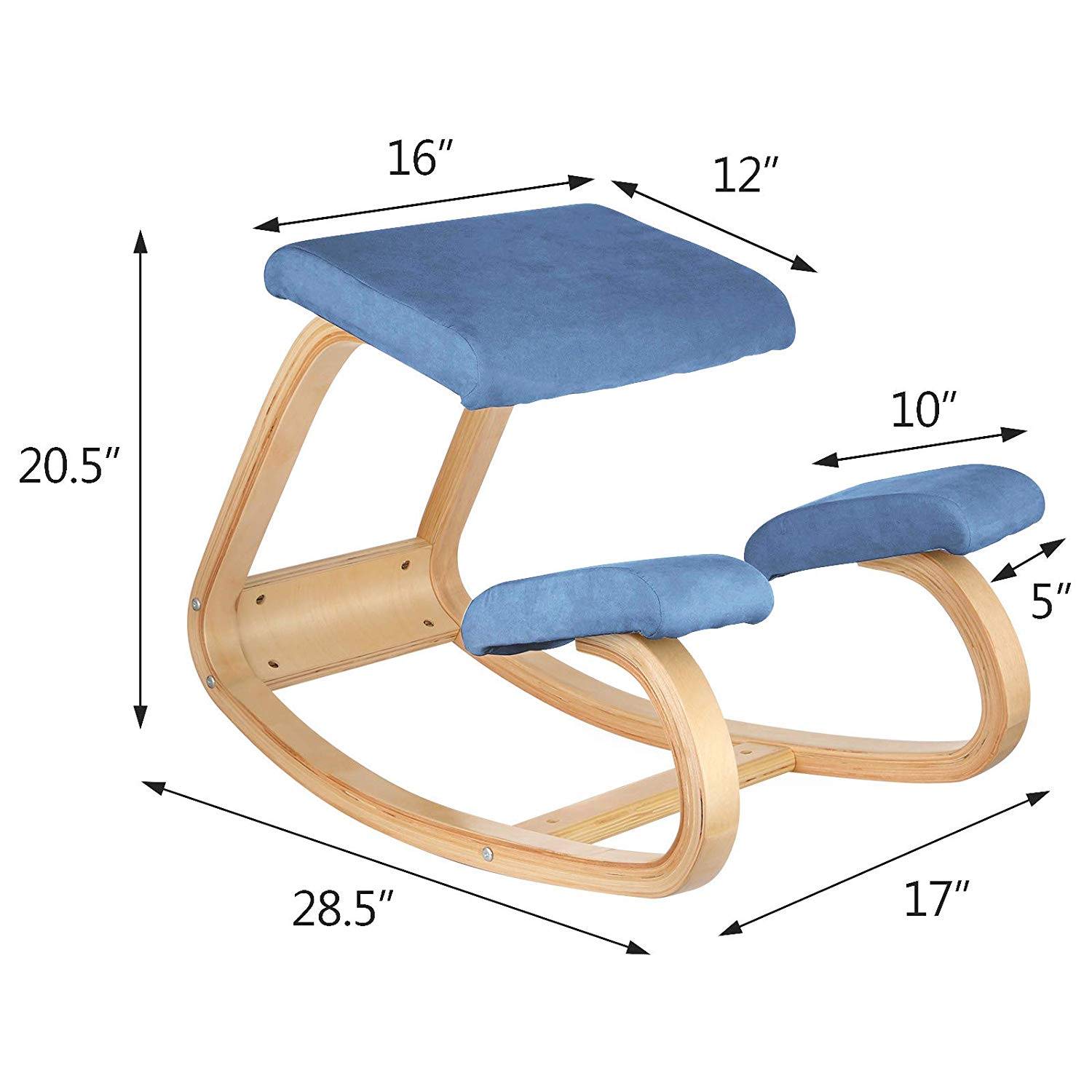 Overall Dimension: 28.5"L x 17"W x 20.5"H
Weight capacity: up to 150kg
Material: Wood, Sponge, Microfiber Luxurious Fabric, High Dense Foam
SHIPPING INFORMATION:
Your product will be packaged and shipped within 2 days of ordering. All products are shipped from USA warehouses to ensure fast shipping! Shipping can take up to 10 days. If located outside the USA, please allow an additional 5 days. Tracking info will be emailed to you as soon as it gets shipped out.
OUR GUARANTEE:
We believe our products can help people's everyday lives, and we fully stand by our products. We offer a risk-free 30-day guarantee on all our products. If you don't have a great experience, we will ensure you are satisfied with your purchase.