Best Discreet Camera to Monitor Kids, Nannies, Pets, Partners
Super Easy to Set up. Just Plug and Play!
Live Streaming + loop Recording to Playback Captured Footage at Any Time
Remote View + Control from any iOS/Android device via a cool APP
100% Wireless Works 24/7
1080P Full HD video with 160° wide angle of view
video & Audio Recording
"This Camera Clock Helps Me to Monitor My Kids When I'm at Work" 
- Vanessa M.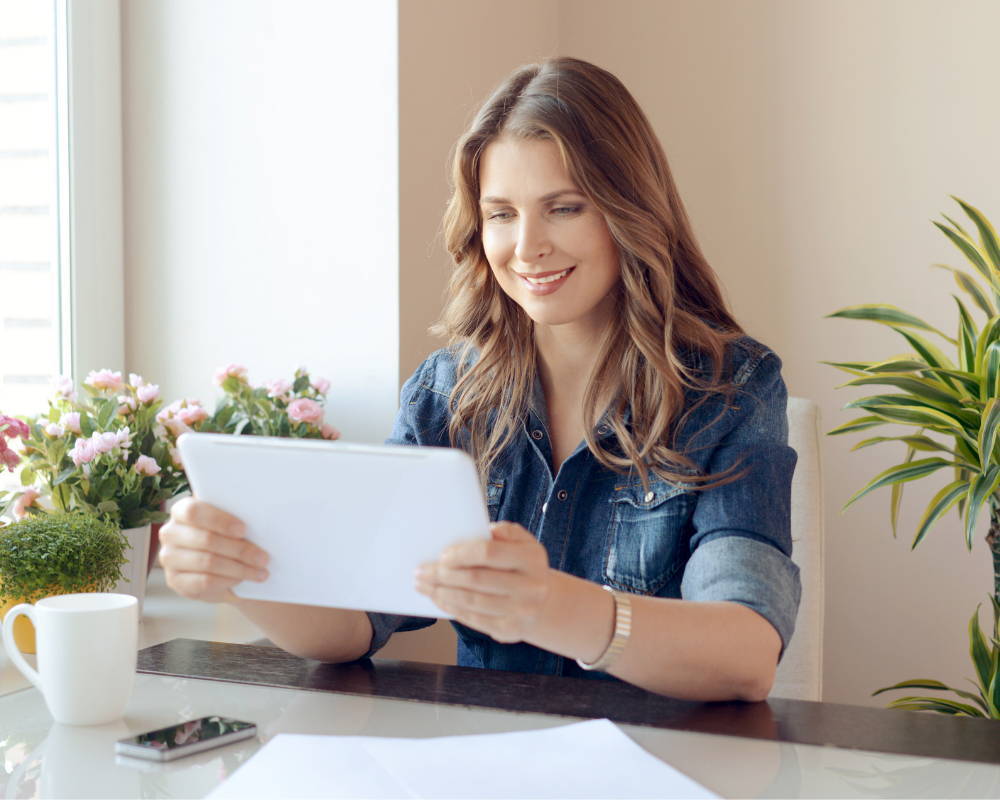 The market's most sophisticated Full 1080p HD Discreet Camera Clock! Motion detecting technologies, loop recording, and WIFI streaming are all included. When you're out and about, a Camera is an excellent companion for keeping an eye on your home, babies, pets, and babysitters. It allows you to observe what is going on in your home without being observed, letting you to check on the situation at any moment.
Do you have any misplaced items at your workplace or at home? Find out who took or misplaced them right away and keep a record of it as proof!
Take care of your pets! We all know that pets are goofy creatures, and nothing could be more amusing than recording and monitoring them while you are away.
Keep an eye on your children! It can be stressful to leave your children with a nanny or a babysitter. As a result, you can now always keep track of what's going on with them.
Keep an eye on your elderly relatives at home! Leaving parents alone with caregivers can be stressful at times. You can now keep an eye on your loved ones 24 hours a day, seven days a week to ensure they are doing well.
Customer Testimonials
"Exactly as described. It is a great camera disguised as a working digital clock. It is easy to set up in just a few minutes. Amazing control of camera features thru iPhone app. Well worth the money."
"P.S. Customer Service is outstanding"
Michael Rogers, MPH
Live-Streaming Directly to Your Smartphone

It appears to be an average clock, but it is actually quite powerful. The live streaming of this camera can be accessed directly from your smartphone via the phone app. And don't be concerned about recording! You can save it to your phone's app or to your SD card.
Get 24/7 Monitoring Over Your Home

Our clock, unlike typical cameras, is simply plug-and-play. It works with any outlet and app, so you can immediately begin monitoring your house. It's also lightweight and portable, making it simple to put up in any room of your house.
Motion detecting technology is built into this camera clock. It will send a notification to your phone when it detects activity. It also features night vision, with a wide viewing angle of 160 degrees.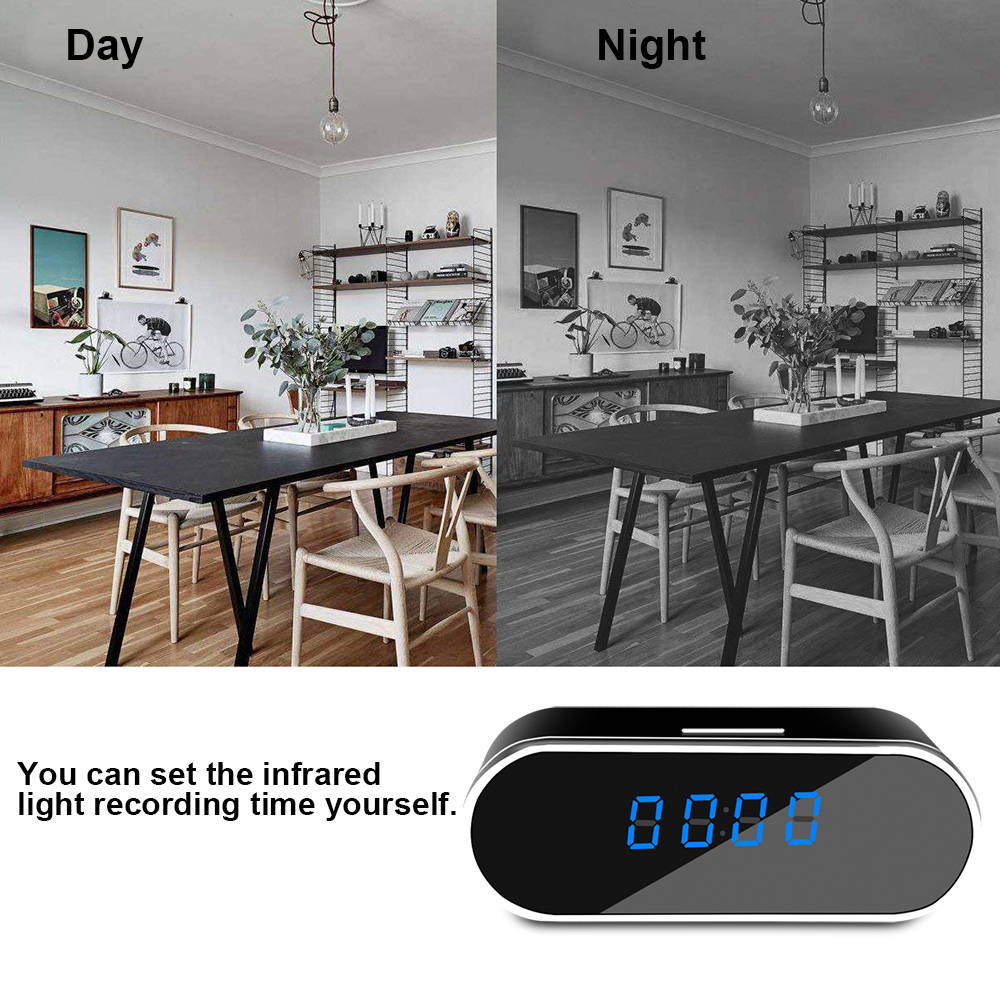 Step away from your house, safe in the knowledge that you can keep an eye on it on your phone. There's no need for a babysitter or typical security systems, which are both costly and ineffective. Simply turn on high-quality surveillance and watch footage on your mobile device.
Specifications:

Compatible with iOS/Android/Mac/Windows
Real-time Audio & Video Recording
Complete Digital Clock Functionality
Wifi IP Network Function
Support 32GB TF Card in Max, Circular Storage(Not included)
Support Motion Detective Recording
Video Resolution: 1280x1080P
Video Format: AVI
Everything You Need To Know Before You Buy
Can I keep records while charging? Will this overheat?
Yes, you can. It will not overheat. When recording, the temperature of the camera will be the same as your body temperature.
How long does the charge last?
The camera will only work around 2-3 hours after charge. It can also be powered when connected to an electrical outlet.
In what distance does the camera start recording?
The camera can continuously record 3-4 hours of video after fully charged. We recommend keeping charging continuously.
Can I control this camera on my smartphone?
Yes, it connects to a smartphone using free app lifetime.
Can I view the records (not in real-time) through the app?
Yes it is. You can watch the recorded video through the application!
If there is no wireless network connection, can this camera work?
If there is no wireless network connection, can this camera work?
Can I use two of these at once on the same computer to capture two cameras?
Yes, absolutely.
Is this camera recording video 24/7
As long as it is connected wifi or has sd card it will record 24/7
How often does the battery need to be charged?
Every 3 hours or you can connect it to the. It can also be powered when connected to an electrical outlet.
Can I use Fire Alarm Cameras without Wifi and just record videos on the SD card? 
Yes, absolutely.
Can I connect it to a 2.4 GHz portable Wi-Fi? 
Yes
What is the maximum size for storage?
32GB
SHIPPING INFORMATION:
Your product will be packaged and shipped within 2 days of ordering. All products are shipped from USA warehouses to ensure fast shipping! Shipping will take 3-5 days. If located outside the USA, please allow an additional 5 days. Tracking info will be emailed to you as soon as it gets shipped out.
OUR GUARANTEE:
We believe our products can help people's everyday lives, and we fully stand by our products. We offer a risk-free 30-day guarantee on all our products. If you don't have a great experience, we will ensure you are satisfied with your purchase. We also offer a 1-year free breakdown warranty on our products